Our company has significant capacities in the manufacture of sheet metal parts produced by CNC cutting technology.
Our factory for manufacturing small and medium sized products is equipped with state-of-the-art technological equipment to meet a wide range of needs.
Our machines:
CNC laser beam cutter: 2D; 2.6 KW; working area: 3000x1500 mm.
CNC water jet cutting equipment: 2D; 4000 bar; working area: 3000x2000 mm.
CNC flame cutting equipment: 2D; working area: 6000x2000 mm.
NC bending machine.
Machine cutter.
CNC rolling equipment with 4 rollers, maximum rolling thickness: 16 mm, maximum roll width: 2000 mm.
Universal lathe machines.
NC milling machines.
Welding equipment for coated electrodes, for MIG / MAG and WIG welding processes.
6300 kg load capacity bridge bridge.
Shovel cabin.
 
TRUMPF Trumatic L3030 Laser cutting machine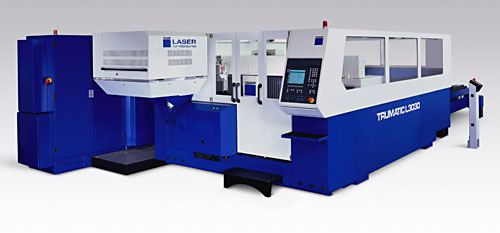 Cutting power: 2.6 kW
Table size: 3000x1500 mm